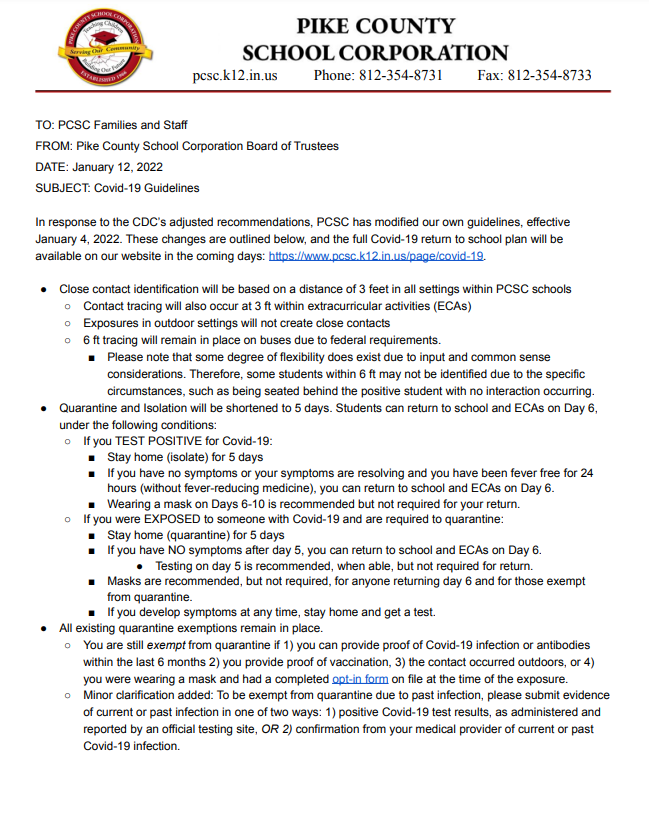 COVID-19 DASHBOARD
PCSC's dashboard will be updated each Friday to reflect the number of students who tested positive for Covid-19 that week. Numbers reflect official positive test results, as provided to us by PCSC families, within the timeframe indicated. If there is a holiday, school break, or cancellation, the dashboard will not be updated during that time.
To protect the privacy of our students, "≤ 3" will be shown for a building with 3 or less Current Positives for that week. The Percent of Student Population shown will remain accurate according to the number of student cases reported.
Pike County's IDOH advisory level designation is RED as of 1/3/22.
PCSC SCHOOL LEVEL DATA
January 17-21, 2022
| School | Current Positive | Percent of Student Population |
| --- | --- | --- |
| Winslow Elementary | 5 | 1.80 % |
| Petersburg Elementary | 8 | 1.70 % |
| Pike Central Middle School | ≤ 3 | 0.54% |
| Pike Central High School | 15 | 2.65 % |
PCSC SCHOOL LEVEL DATA
January 10-14, 2022
| School | Current Positive | Percent of Student Population |
| --- | --- | --- |
| Winslow Elementary | ≤ 3 | 1.08 % |
| Petersburg Elementary | 6 | 1.06 % |
| Pike Central Middle School | ≤ 3 | 0.81 % |
| Pike Central High School | 6 | 1.06 % |