NEW Full-Time job opening: Food Service Director...To apply, visit pcsc.k12.in.us/page/application-forms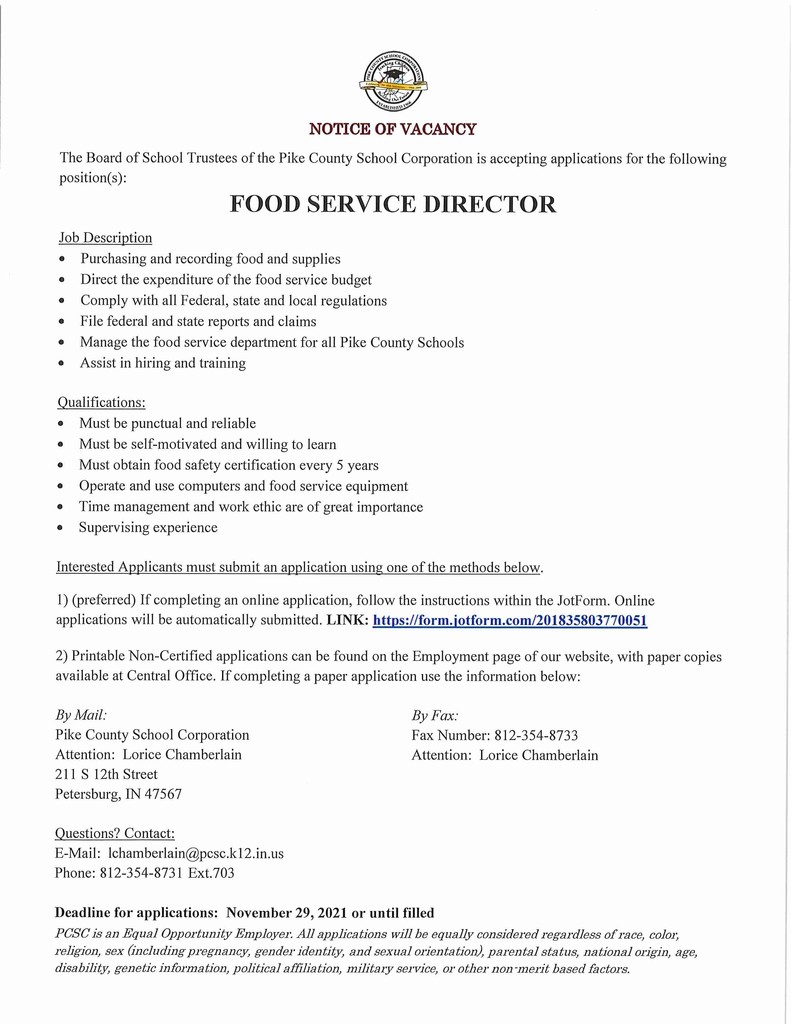 Did you know that our very own Mr. Aaron Meyer, principal at Winslow, is the co-host of the 19Nine podcast? This is a popular podcast that focuses on colloge basketball. Check it out sometime at shorturl.at/rAFKT. Let him know what you think.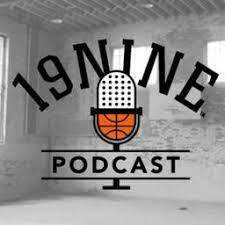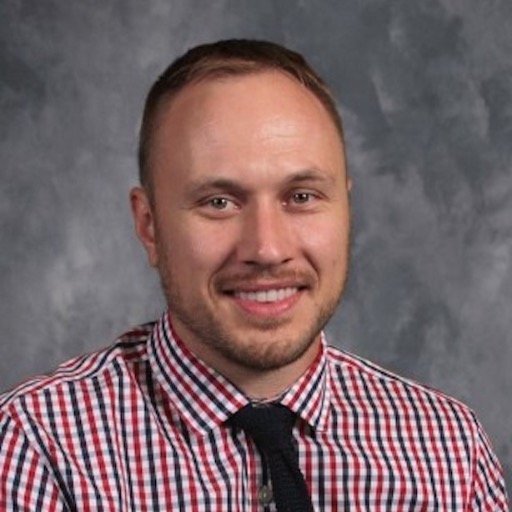 National Honor Society students working hard during the Day of Caring! Thanks. #ChargerPride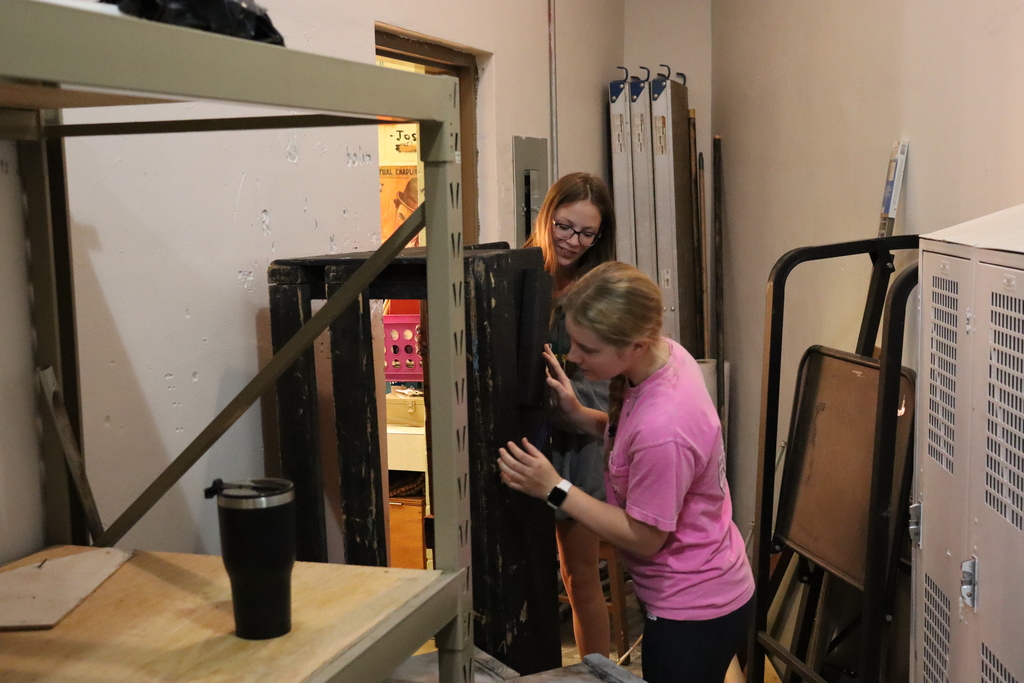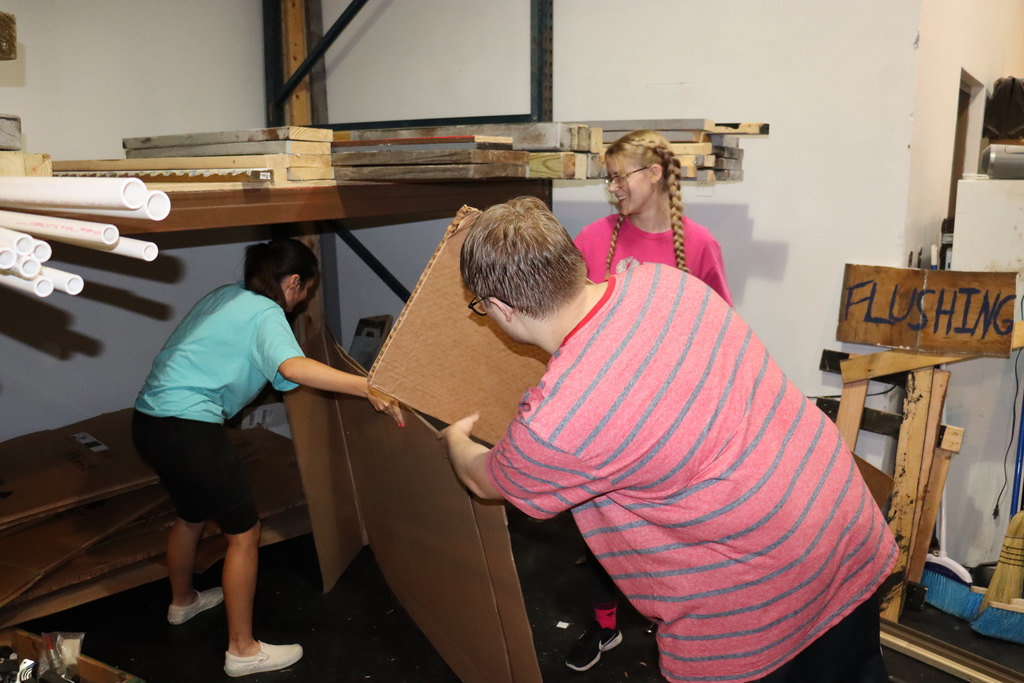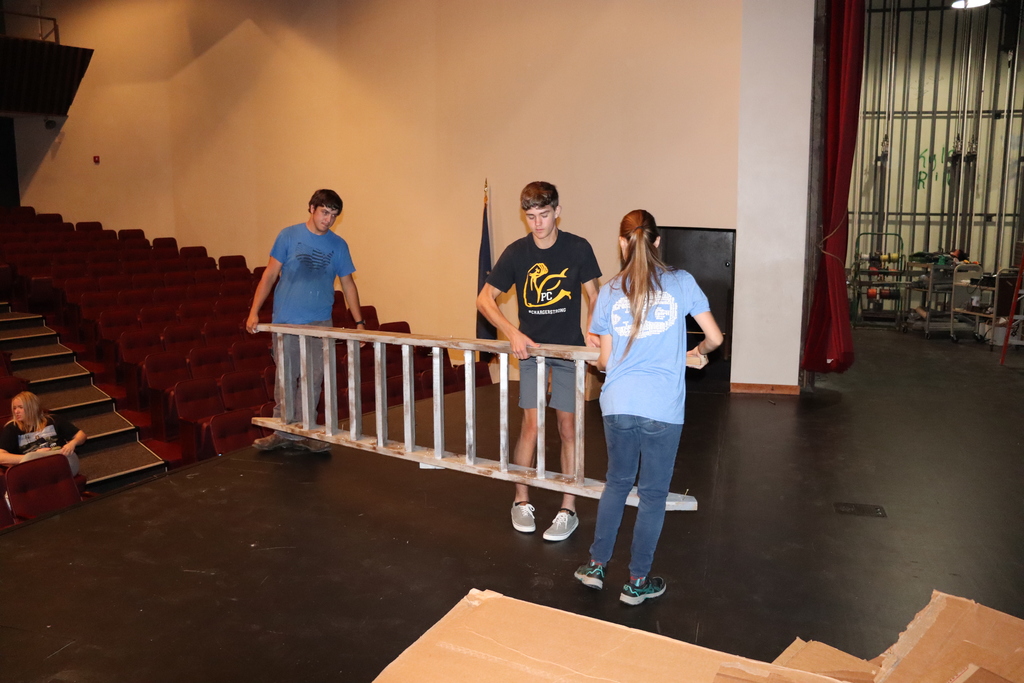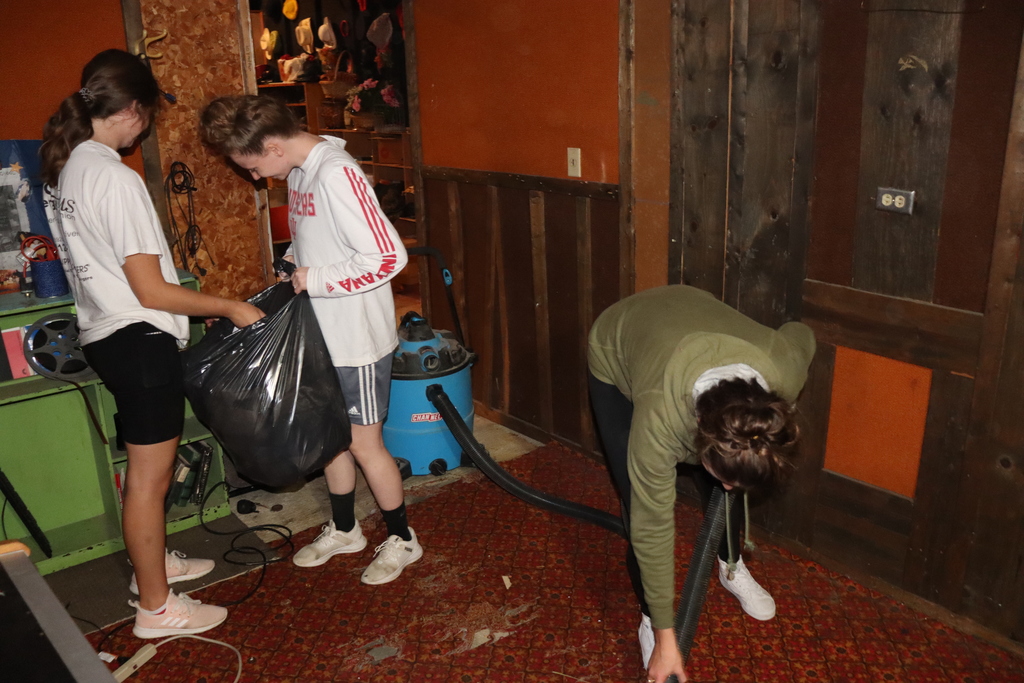 Check out what is going on at the Pike County Public Library!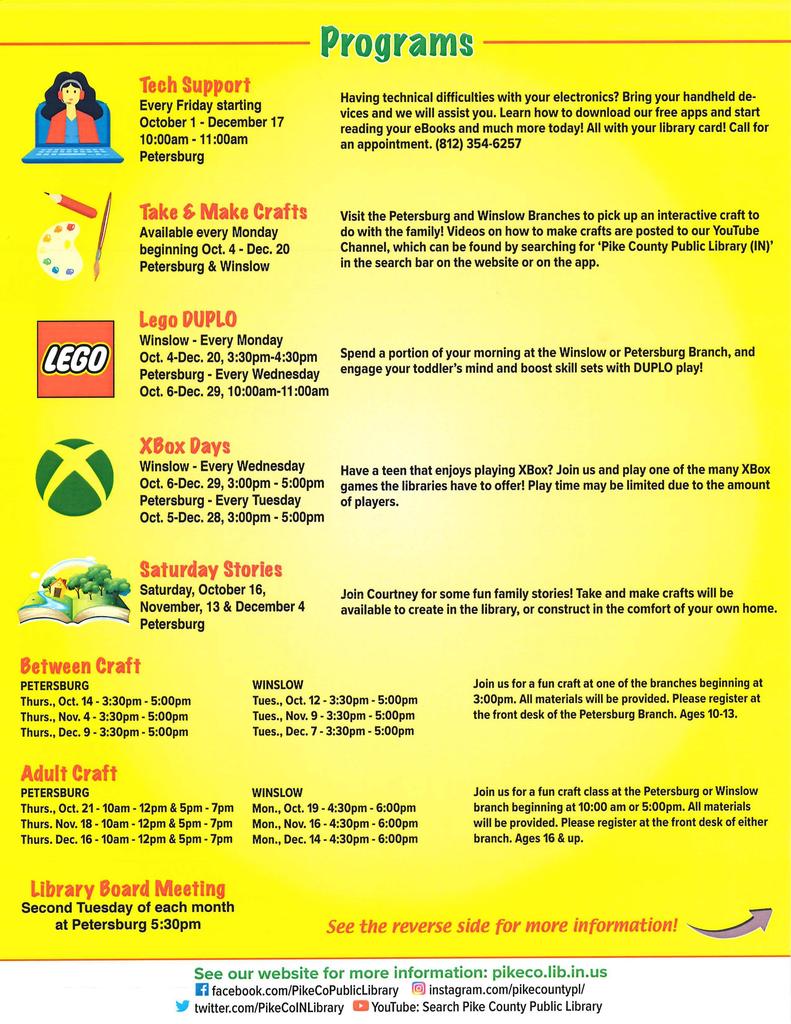 Congratulations to Coach Elliott for his completion of a 70.3 IronMan this past weekend in Muncie. He completed a 1.2 mile swim, 56 mile bike ride and a 13.1 mile run! Super proud, Coach Elliott! #ChargerPride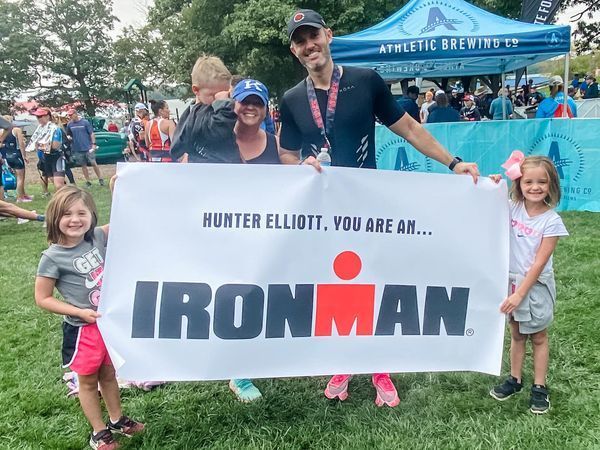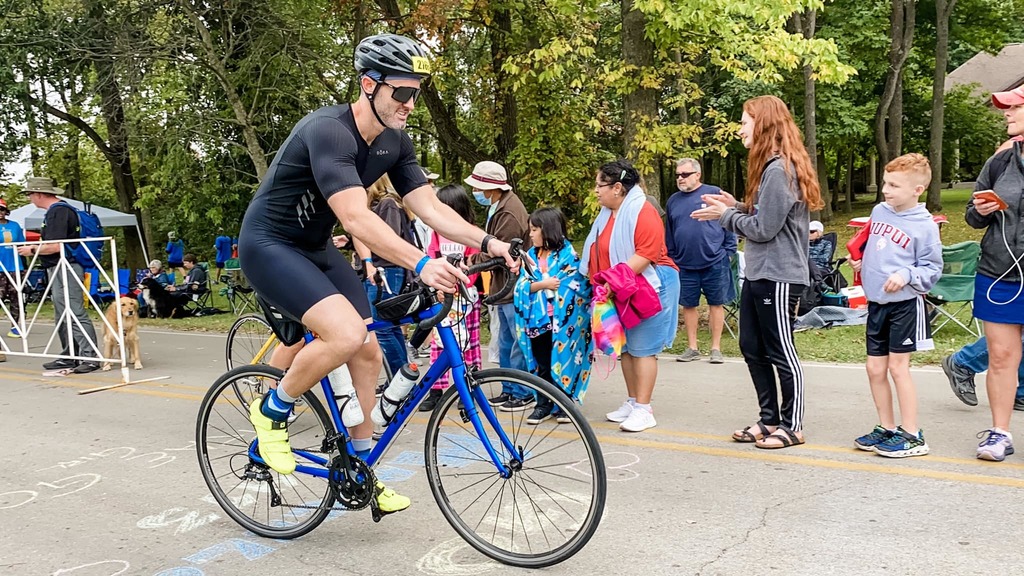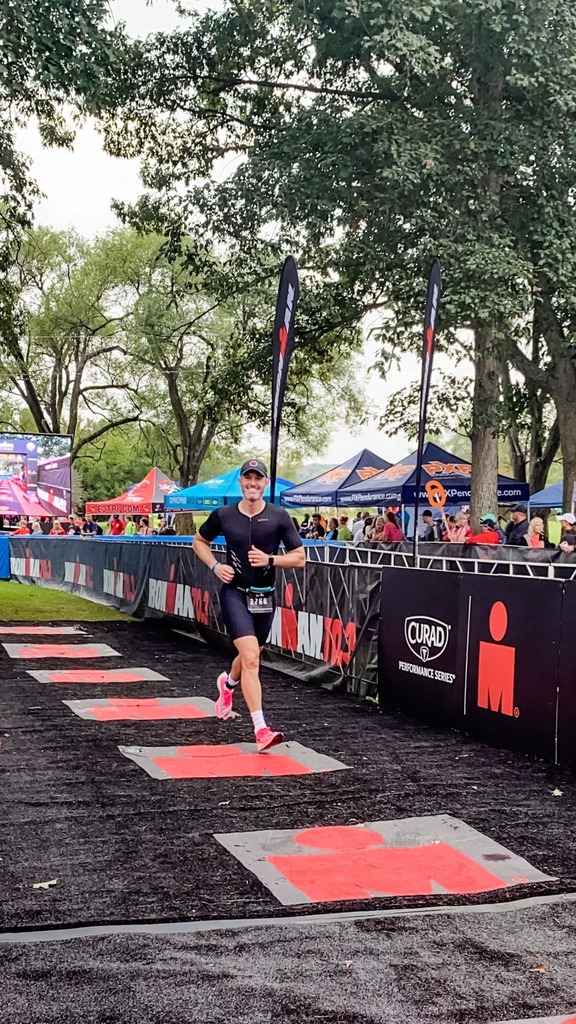 The Mission of the Pike County School Corporation is to provide all students with a quality education that encourages them to become successful citizens. With that in mind, the PCSC Board of Trustees voted to modify our Covid-19 policies, to take effect October 4, 2021. A letter from PCSC is pictured below and provides a brief overview of these changes. All info is available at
https://www.pcsc.k12.in.us/page/covid-19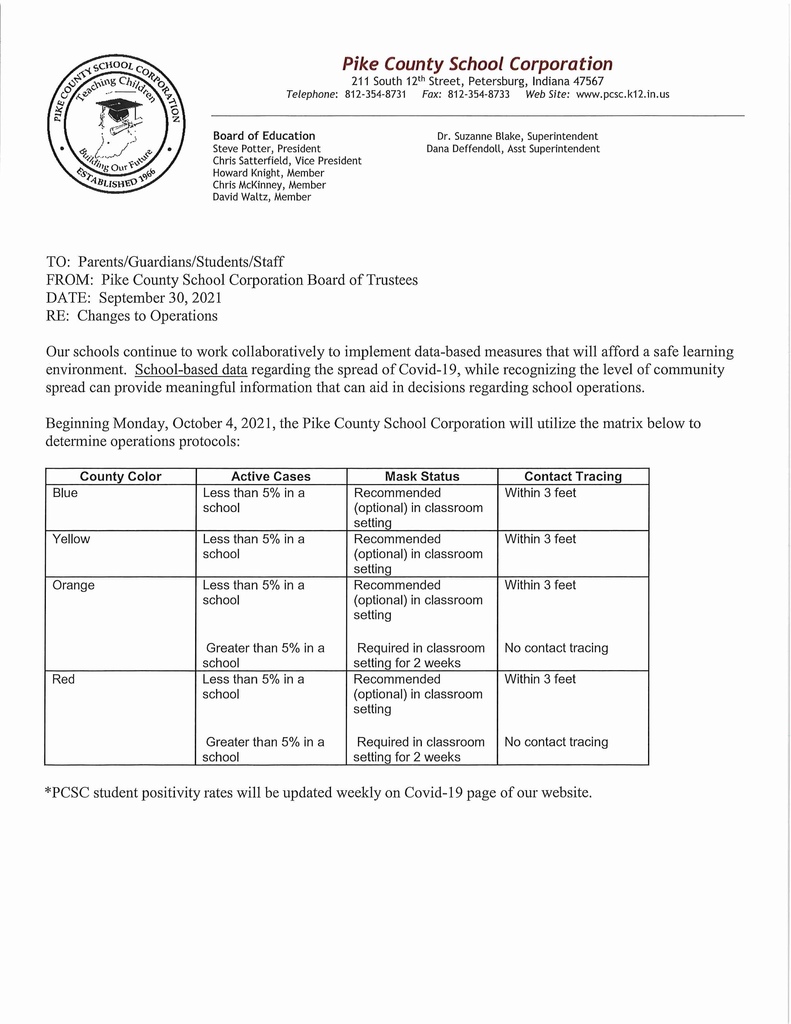 PCSC is requesting guardian input and opinions regarding Covid-19. Please complete the brief survey linked in this message by 9am Tuesday, September 28.
https://bit.ly/CovidSurveyPCSC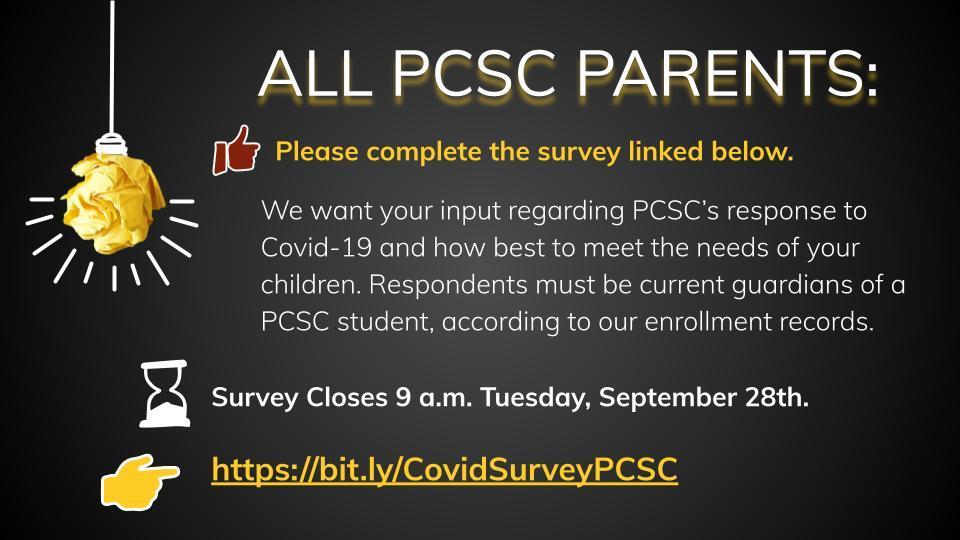 The PCHS Auditorium stage floor is undergoing a much needed update while the Pool project is hurtling toward completion. We can't wait to see all of the impressive things our Chargers will continue to do in these facilities!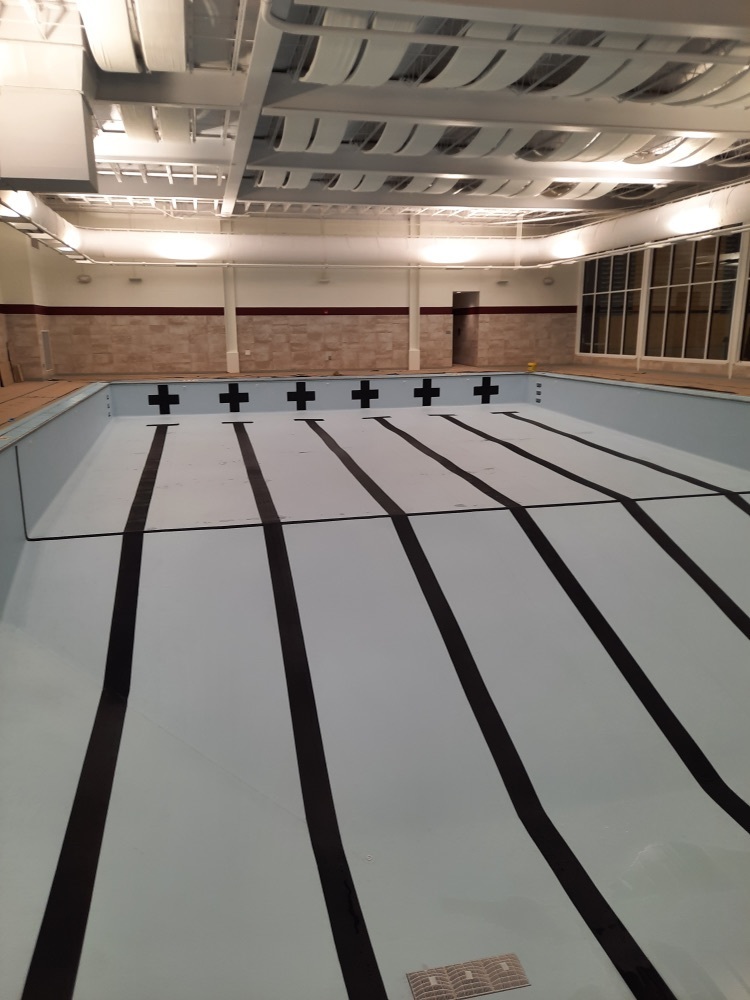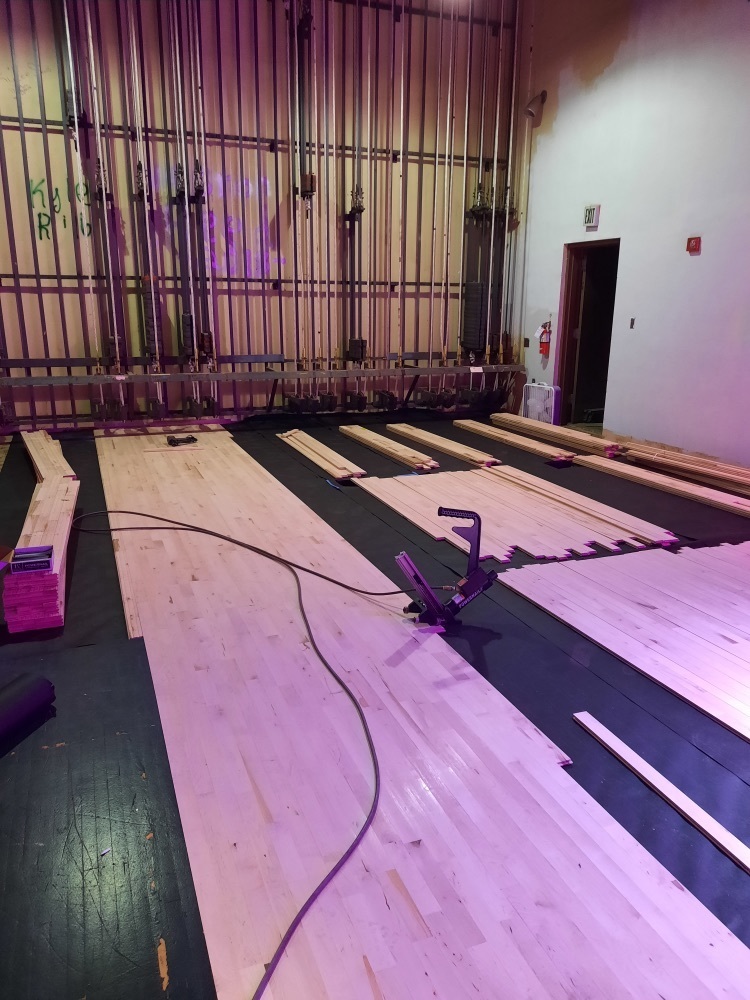 COVID-19 POLICY UPDATE (9/15/21): The following changes will be implemented through September 30, 2021. •Masks will be optional for all PCSC staff and students. •Contact tracing will be completed at 3 ft. •Individuals identified as close contacts will need to quarantine, but options for early return will continue to be available. •Enhanced Precautions will NOT be required for early returns.

Effective Monday, Aug 30, masks will be required at all schools in the Pike County School Corporation for the next two weeks. This applies to all staff, students, and visitors regardless of vaccination or immunity status. Face shields, gators or masks are acceptable as they were last year. Masks will not be worn when students are physically active, such as during recess, PE or athletic practices or events. By issuing the mask requirement, this will also allow us to conduct contact tracing at 3 ft during times that masks are worn. When masks are not worn, contact tracing will remain at a distance of 6 ft. This adjustment should reduce the number of individuals that will be quarantined and increase the number of students able to remain in the classroom. PCHS and PCMS will resume a regular schedule on Monday, Aug 30th. We will continue to monitor our data and review options that will best serve our students and staff during the coming weeks.
Custodian and Cafeteria Vacancies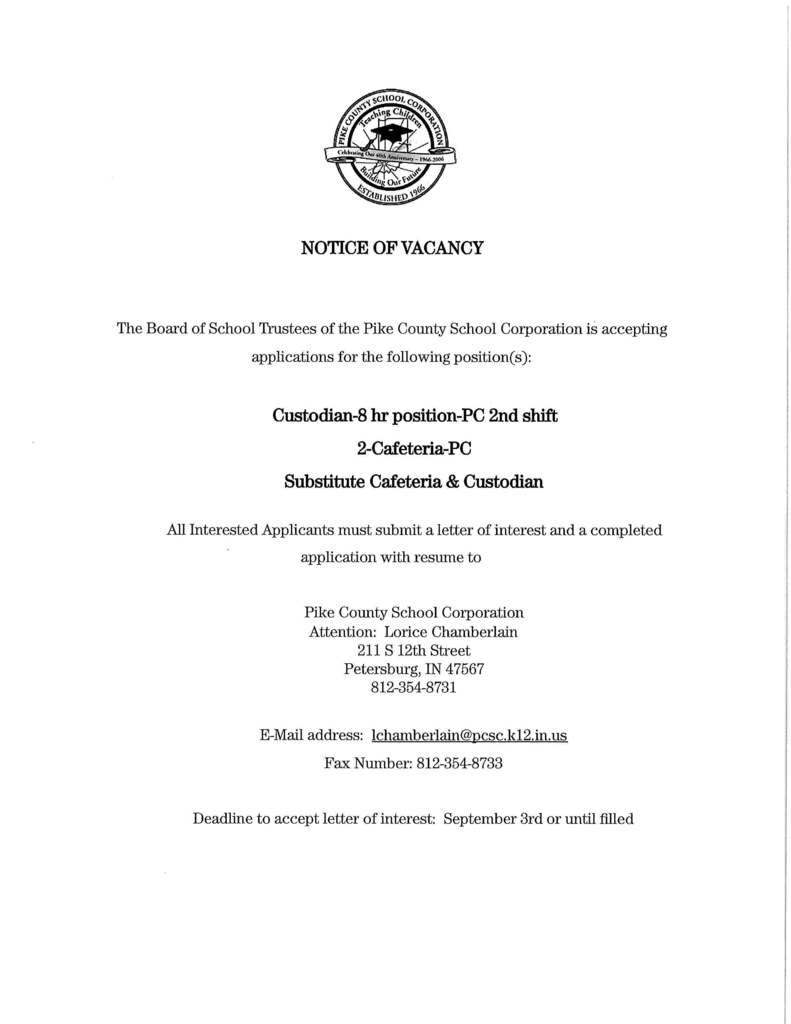 IMPORTANT PCMS & PCHS Families: Due to the rapidly increasing cases of Covid-19 at the MS & HS, all students in grades 6-12 will have eLearning days from August 24-27. Students should log in to their classes and make contact with their classroom teachers during their regularly scheduled class period each day. Students who need to pick up devices or textbooks may do so between the hours of 8:30 am - 3:00 pm each day at their building. Teachers and classroom assistants are expected to report to their buildings at their regular time. Students at PES and WES will attend school on regular hours for the remainder of the week.

FOOD SERVICE MESSAGE: Please check our web menus daily for the most accurate menu for your building's cafeteria. Please be aware that recent and future changes to our menus are caused by vendor difficulties due to shortages and shipping issues. Our meals must be balanced to meet USDA criteria for nutrition, calorie count, and sodium. If an item within our order is suddenly cancelled, we immediately begin working to reorganize the meal and update our website menus. We apologize for the inconvenience, which we hope is short-lived.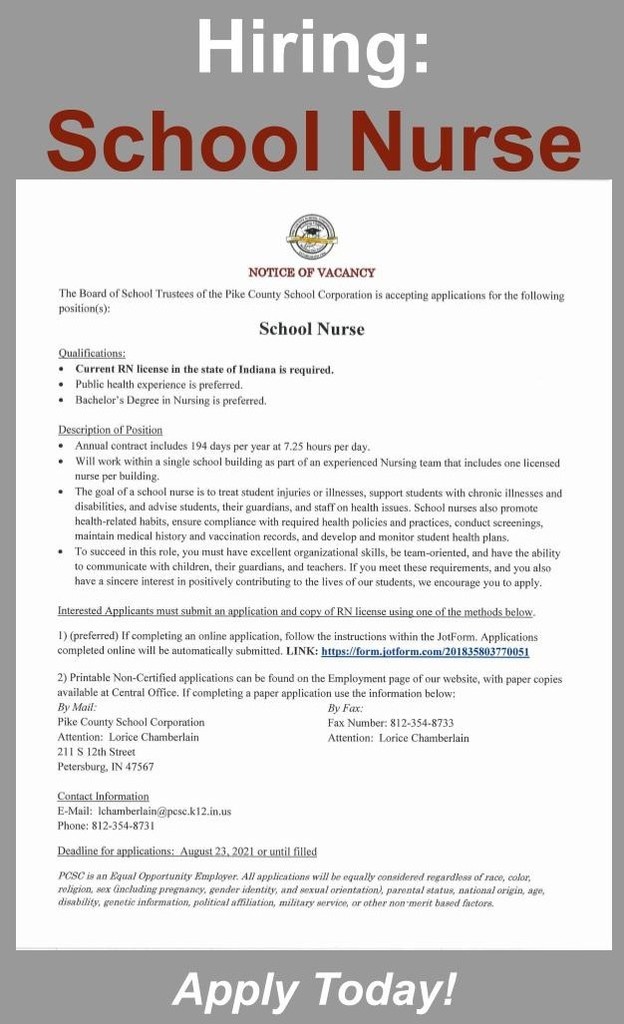 pcsc.k12.in.us Phone: 812-354-8731 Fax: 812-354-8733 July 29, 2021 Dear PCSC Guardian, The Indiana Department of Education is requiring all students to provide proof of Indiana residency to their school, to be maintained by the school in the student's permanent school record. All documentation is confidential and will remain within your child's confidential educational record. For families with multiple students, documentation will only need to be sent to one child's school, but please be sure to include the names of all students in the household and the school they attend, as well as the guardian's name, on the proof of residency. PCSC is collecting this documentation through an Indiana residency form, which is linked below and must be completed by every enrolled student. Once this information is submitted, a guardian will not have to re-file proof of residency unless the student's address changes. According to the IDOE, "Documentation may include such items as a current utility bill, telephone bill, tax return, bank statement, mortgage statement, rental/lease agreement, medical bill or other like information that provides a verifiable address." All documents must be dated, clearly identified, and readable. Guardians may provide verification documents as 1) hard copies delivered to the student's school office or 2) pictures or PDF files submitted electronically using the link below: bit.ly/PCSCindianaresidency Please provide your child's residency verification documentation by Sep 1, 2021. Thank you for your assistance in meeting this new requirement. Dana Deffendoll Assistant Superintendent, Pike County School Corporation

Petersburg Elementary School will be having a "Meet the Teacher Night" on August 9th from 6:30 p.m. to 7:30 p.m. This will be an informal "Come and Go" as you choose anytime during this hour. Parents and students will be able to meet their child's teacher and see their classroom. Our school counselor will also be there in case anyone needs to speak with her. Students may bring some of their school supplies if they want to.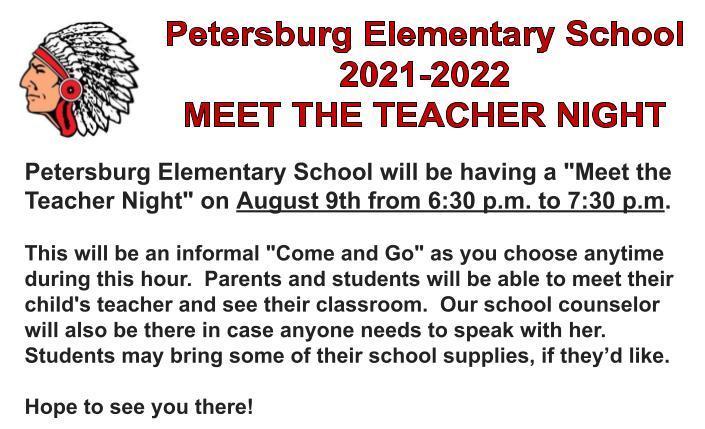 The Pike Central Band has smooth, new pavement and freshly painted markers for choreographing and practicing their dynamic performances. Be sure to catch them live on the football field for the real thing!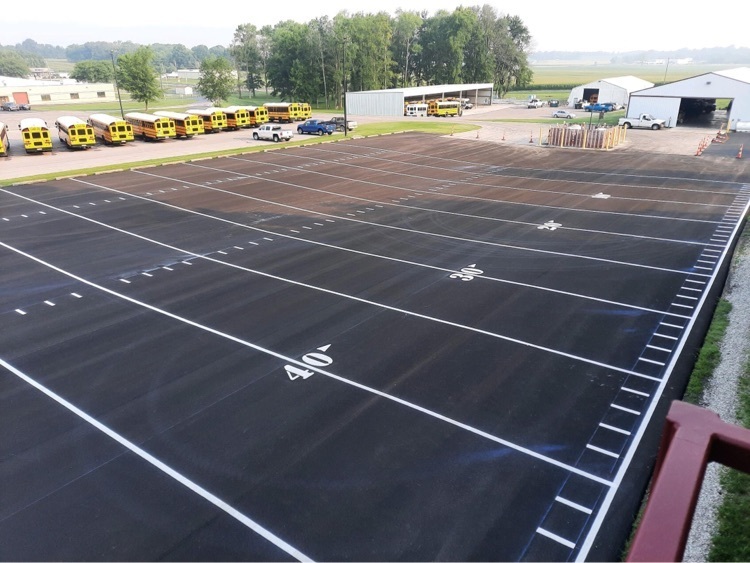 APPLY TODAY to become a Teacher and/or Instructional Assistant Substitute by completing the NonCertified Application on our website (under Employment tab) or by following this link:
https://form.jotform.com/201835803770051
-If needed, paper applications are available at the PCSC Central Office.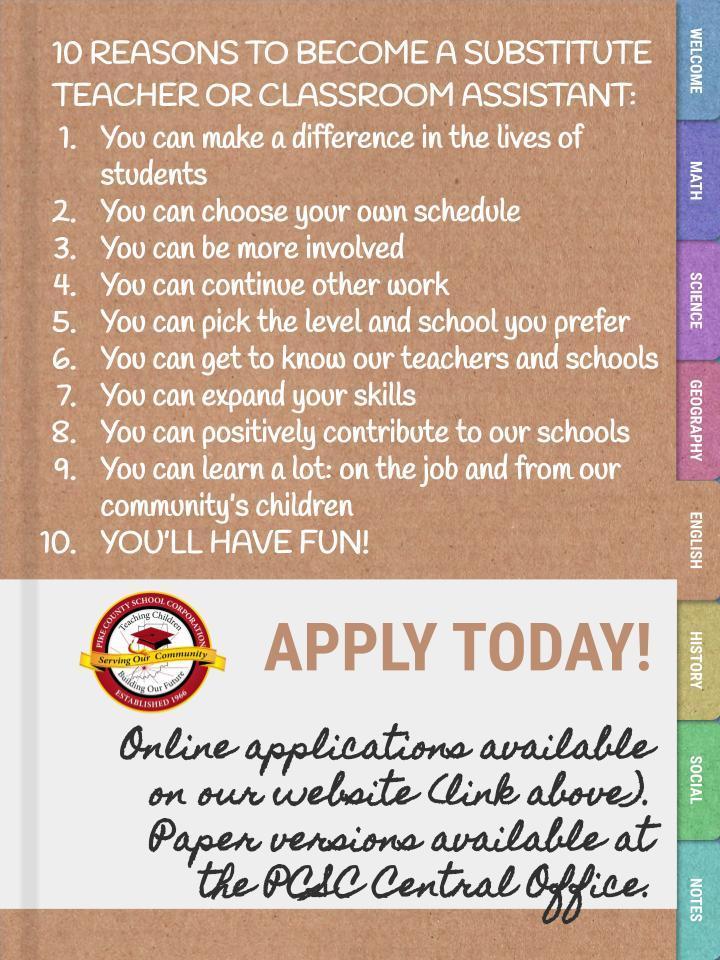 APPLY TODAY to become a PCSC Substitute within any of the departments shown by completing the Non-Certified Application on our website (under Employment tab) or by following this link:
https://form.jotform.com/201835803770051
-If needed, paper applications are available at the PCSC Central Office.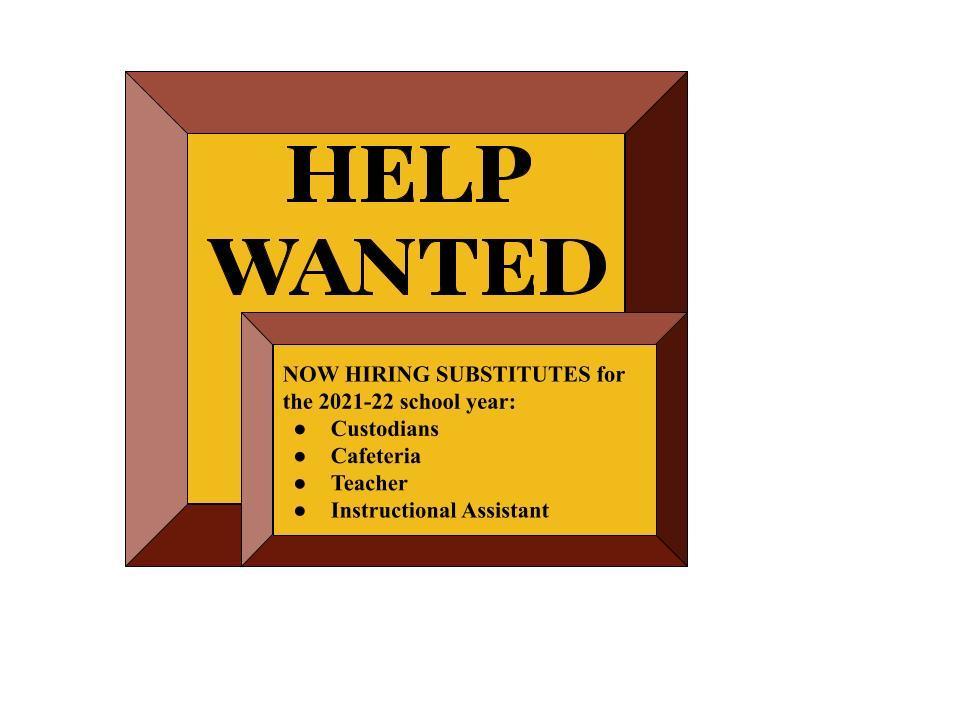 Pike Central Middle School will have student volunteers available from 10am-6pm on August 5th, to offer tours and help with lockers. *Students will also be able to find their scheduled classes and lockers while at registration. *As a reminder, registration information is available on our website:
https://www.pcsc.k12.in.us/page/2021-22-student-registration